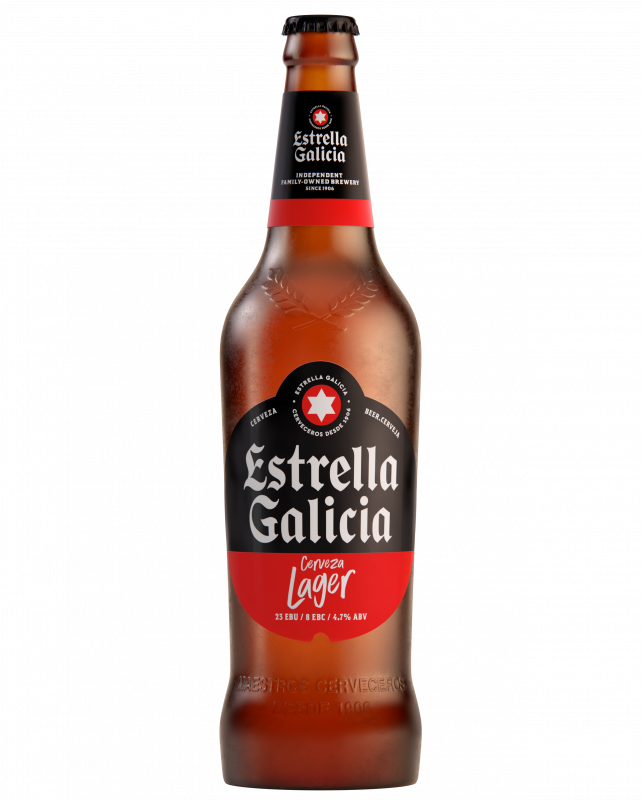 Premium Spanish beer brand, Estrella Galicia, has secured a nationwide listing with Sainsbury's and launched into 336 stores across the country. The listing will showcase its new visual brand identity and more sustainable packaging through 4x330ml packs (£5) and 660ml bottles (£2.25) of Cerveza Lager. 
The new sustainability measures adopted include a 12% reduction in bottle glass, thereby preventing almost 10,000 tons of waste during the production process each year, as well as the use of FSC-certified paper for all labels. Cardboard packaging will be 100% recyclable and created from cardboard waste generated in the brewery.
Estrella Galicia's new visual brand identity, which will feature across all Estrella Galicia product formats, is based on the revamping of the current brand image and a return to the original star design used for its very first label.
Estrella Galicia seeks to stand out and surprise consumers, as well as consolidating its artisanal character – a key factor in its resistance against the standardisation of beer. Estrella Galicia's new design is intended to be more environmentally friendly than ever. The brand's major new packaging features will significantly reduce its carbon footprint and boost its sustainability.
Mark Johnson, UK & Ireland Director, comments: "We're pleased to bring this sustainable product to market and launch our new visual brand identity through our nationwide listing with Sainsbury's. We're aligned with Sainsbury's Plan for Better and believe our sustainability credentials, such as being a Carbon Neutral organisation, will resonate with the Sainsbury's customer. Our modernised look and feel will give better shelf standout and we've created a more cohesive brand identity for the consumer, increasing our brand awareness and easing the consumer journey to purchase."