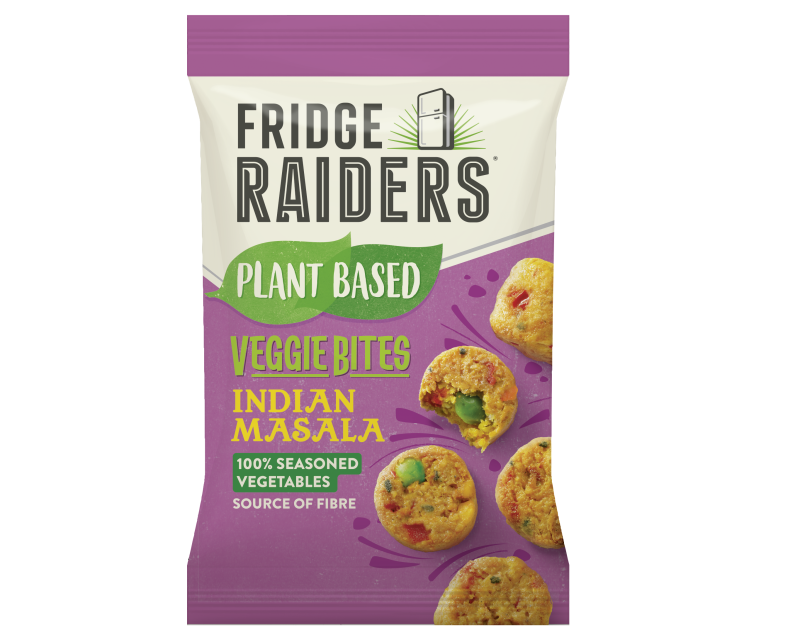 Fridge Raiders, part of Kerry Foods, today (Monday 21st December) announces its move into the plant-based category with the launch of its brand-new Veggie Bites. The brand is known for its popular Chicken Bites range, offering shoppers snacks for eating whilst on the go.
The move into the plant-based category signals Fridge Raiders' intentions to diversify the snacking options available to consumers and to cater to their busy lifestyles. Available on supermarket shelves this month, these new vegetable-based snacks come in three flavour variants – Simply Seasoned, Mexican Heatwave and Indian Masala..
The new range marks the first time Fridge Raiders has ventured into the category, catering to the surge in consumers opting for plant-based options. The category is booming: now worth £345m, it's up 32.7% vs last year and growing ahead of the total grocery category by +7.5% compared to 2019[1].
Fridge Raiders Veggie Bites are a continuation of the brand's intention to champion snacks of substance. The three new flavours are all made with 100% seasoned vegetables, making them a convenient snack that is also a source of fibre. The snacking category has seen significant growth over the last year but there is a clear gap in the market for plant-based snacks. During the first lockdown there was a +110% increase in searches related to 'healthy snacks'[2], demonstrating how consumers are actively looking for inspiration for healthier options.
Lauren Innes, Senior Brand Manager, Fridge Raiders, said: "We are so excited to enter the plant-based category with the launch of our new Veggie Bites range. Fridge Raiders is committed to creating real food that will sustain consumers for longer, through our investment in flavour innovation and delivering great tasting, high quality snacks. With shoppers continuing to look for variety in healthy snacks, we are confident that our three flavours will be crowd pleasers and fly off the shelves!"
With almost half of the UK population looking to reduce their meat consumption[3], Fridge Raiders Veggie Bites directly respond to this demand and are a robust choice for retailers looking to offer exciting snacks with nutritional benefits. The new products come in two different SKUs to help retailers maximise their plant-based offerings: a 70g format for back of store and a 50g format designed for food-to-go.
The continued expansion of the Fridge Raiders portfolio follows a successful year for the brand. The Fridge Raiders portfolio has experienced 11.4% growth in the last year, and now has a RSV of £68.2m[4]. Fridge Raiders is confident the Veggie Bites range will be popular with the brand's core audience: active adults aged between 18-34 who lead busy lives, are juggling multiple projects and are always on the go. To support the launch and drive awareness of the new range, an above-the-line campaign will be launching from 25th January across TV and Video-On-Demand, as well as shopper activity in-store and online, helping retailers to boost sales.
Fridge Raiders Veggie Bites are made of 100% seasoned vegetables and have a RSP of £1 for a 50g or 70g bag. 
---
IRI 52 W/E 01.11.20
Prima – April 2020
Mintel Meat-Free Food – UK – November 2019
IRI date to 6th September 2020